Have you clicked "like" on a link under a Facebook post and then decided that you actually do not want to like it? You may have clicked the like accidentally or you may have simply changed your mind and do not want others to see what you liked.
How do you remove that "Like" from that link?
The following is a Facebook tutorial showing two options to show you how to remove a "Like" from a link on Facebook post in the new Timeline format:
Option 1
How to Unlike a Link on Facebook
The first option is to locate the Facebook post or link that you recently liked. When you have located the post or link, find and click the "Unlike" link beneath it.
[Image 1]
Option 2
If you are unable to locate the post or link that you want to remove the Like from, follow the following directions:
In your personal Facebook profile, locate the Activity Log button directly underneath and to the right of your personal profile Time cover image. [Image 2]
The next page is your Activity List that includes all your Facebook activity since the beginning.
Scroll down the list to locate the post or link that you want to unlike.
For example, the list will include: YourName likes a link. Click that "link" to go to the post to unlike it. [Image 3]
Note: Only you can see this Activity Log list when you are logged into your Facebook account.
[Image 2]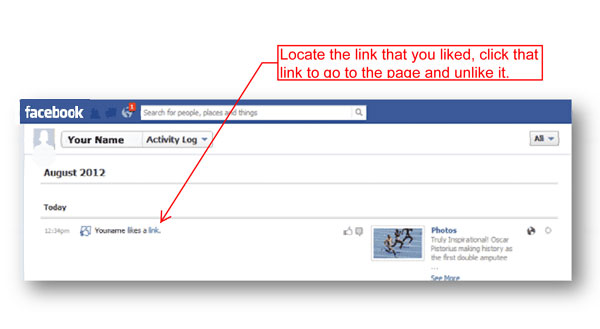 [Image 3]
---
You might also like to read:
How to Remove Your Home Address and Cell Phone Number From Facebook
Would you like to keep your home address and phone numbers from prying eyes on Facebook personal profile? This tutorial will show you how to remove both.
Facebook Hacking & Strategies to Keep Your Account Safe
Do you think twice before clicking a link on Facebook that a trusted friend posted? Have you ever seen a message with a link that a friend posted on Facebook that looked suspicious? It may have been a post or email…
---
Questions?
Do you have questions about how to manage your Facebook page? Do you need assistance with your web design or social media needs? Please feel free to post a comment below, and contact us or call:
248-889-0266
How to Remove a Like from a Link on Facebook
was last modified:
January 8th, 2017
by
The following two tabs change content below.
Fascinated with the growing potential and power of the Internet, Robin founded R & R Web Design LLC in the Chicago area in 2000. As creative director, she is passionate about helping others reach their Internet objectives through a strategic online presence with results driven custom web design, ethical SEO, and social media marketing.
Latest posts by Robin Strohmaier (see all)