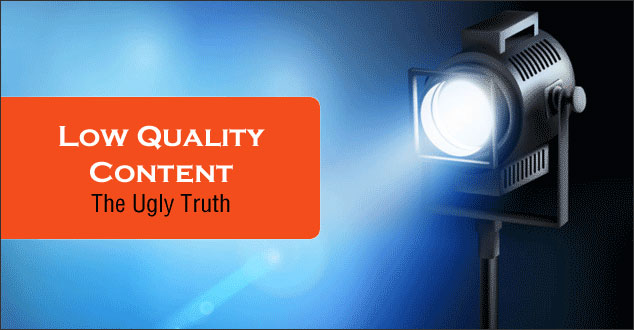 Did you know that low-quality content on some parts of a website can impact the whole site's rankings?
It's a fact. Low-quality content on some parts of your website may be hurting your search engine rankings. This ugly truth may be hard to swallow, but the rewards for dealing with it far outweigh the time and energy spent to fix it. Let's look at what low-quality content is, why we should clean it up, and how.

What is low-quality content or shallow content?
The low-quality or shallow content that I am referring is content that may have been included on a website that offers very little content or value. A web page with only a few words or sentences may be perceived as shallow content by the search engines.
Another example of low-quality content, according to Jill Whalen of High Rankings Advisor, is content that is "very similar to what's on other pages of the website." These types of content pages may have been dynamically generated by a content management system (CMS) like WordPress.
Eric Enge of Stone Temple Consulting describes low-quality or "thin content" as
These are pages on your website that have very little to no unique text content.
Why we should clean up low-quality content
When Google's Panda and Penguin algorithm changes were rolled out in 2011 and 2012, many website owners felt the shock waves. Many site owners who had been following the rules saw their web traffic affected. Google's definition of what counts as high-quality content in More guidance on building high-quality sites [May 2011] states:
"Our site quality algorithms are aimed at helping people find "high-quality" sites by reducing the rankings of low-quality content. The recent "Panda" change tackles the difficult task of algorithmically assessing website quality."
Cleanup Task List
You may be asking where you should begin, how to identify and how to go about cleaning up what might be perceived as low-quality or shallow content. Google has provided specific guidelines for website owners to follow in the Webmaster Central Blog article, More Guidance on building high-quality sites:
"One other specific piece of guidance we've offered is that low-quality content on some parts of a website can impact the whole site's rankings, and thus removing low-quality pages, merging or improving the content of individual shallow pages into more useful pages, or moving low-quality pages to a different domain could eventually help the rankings of your higher-quality content."
To restate Google's Advice:
Remove low-quality pages.
Merge or improve the content of individual shallow pages.
Move low-quality pages to a different domain.
Examples of Low-Quality or Shallow Content
Examples of content that may be identified as low-quality or shallow content include:
Short Blog Articles: Blog articles with a few sentences about an article and then a link to the original article for further reading.

What you can do: Consider removing the page or improve the content by writing more about the linked article with your own take on it.
In the future, instead of posting a quick two or three sentence blog post introducing an article, consider posting it instead on a social networking site like Facebook, Google+ or Twitter.

CMS Troubleshooting: Pages generated by CMS (Content Management Systems) that provide little content or duplicate content. WordPress is known to generate duplicate content. Ways to avoid duplicate content in WordPress:

Disable comment pagination by going to Settings > Discussion > Other comment settings and uncheck "Break comments into pages with __ top level comments per page and the __ page displayed by default.
Add "noindex/follow" to subpages or archives. This step will still allow pages to spidered, but not indexed.

This can be done with Yoast SEO plugin by going to: "Titles & Metas" and checking "Noindex subpages of archives." This setting tells the searches engines not to index the archived page, but to follow the links on it for indexing.


Joost de Valk, owner and creator of Yoast.com identified several areas when WordPress generates "duplicate content pools" in the following taxonomies:

Author archives
Categories
Date archives
Tags

Old Articles
Other types of content to consider cleaning up include old articles that no longer offer value or relevant information. For example, you may have written an article in 2010 on how to remove a like from a link on Facebook. Because the actual steps to do this have changed, you wrote a new article in 2015 with the current directions.

By implementing a 301 redirect on the old article to the new, you will be cleaning up the old no longer valid information and redirecting your readers to the new accurate information.
As for any content on your website whether it is a web page or blog article, ask yourself,
Does this offer value for my readers and
is this information still valid?
If it does not, you may like to consider cleaning it up or revising it to offer the value that users and Google is looking for. For Google's full list of guidance on quality, see: What counts as a high-quality site?
The Ugly Truth About Low-Quality Content
Removing old articles that are no longer relevant can be painful. This blog has been up since 2008, and a number of the older articles didn't meet current quality standards. Some of them were shallow with less than 250 words. Other articles were no longer relevant and would not bring any value to our readers.
As painful as it was, I took a deep breath and:
Removed over 100 old irrelevant articles that no longer offered any value.
Revised other articles to meet current guidelines.
Wrote new articles about the same subject with new relevant information. Then I put 301 redirects from the old to the new.
Take Away
Eliminating or cleaning up low-quality or shallow content on your website for the best overall user and search engine optimization can be painful. Even if you did not intend to include shallow content, you would be able to improve your chances of ranking in Google's results by identifying it and developing an action plan. This action plan includes removing low-quality pages, merging or improving the quality of the shallow content on your pages or blog articles, or moving low-quality pages to a different domain.
In closing, here is Eric Enge's advice on how to avoid thin content and Google's Panda algorithm sting,
Each page on your site needs unique, quality content, on them. This may not always be easy to do, but you just have to figure out how to get it done.
Your Turn
Have you ever deleted old and irrelevant content from your website? Or, have you revised old content to meet current guidelines? Please let me know your thoughts in the comment section below.