How much time do you spend on Social Networking sites?
On what Social Networking site do you spent the most time?
If you are like the majority of Americans, you spend 5 out of every 6 minutes on Facebook from all the available Social Networking sites according to comScore. Facebook took the largest time spent share percentage with an astounding 83% in December of 2012. You may be surprised to learn what social media networks took 2nd through 5th places.

A worldwide leader in digital measurement and analytics, comScore recently released the report, U.S. Digital Future in Focus 2013, that includes key insights from 2012 and what they mean for the coming year. The report reflects what some may call the obvious leaders, Facebook, Twitter and LinkedIn, however, three social networks emerged as top gainers. Pinterest, Tumblr and Instagram each increased in excess of 10 million visitors. The growth of the three, according to comScore, was partly due to what comScore states is "the rise of the visual web." The numbers are impressive:
Tumblr – 30.8 million visitors – up 64% YOY
Pinterest – 28.9 million visitors – up 284% YOY
Instagram – 27.4 million visitors – up 284% YOY
The pie chart below shows the top 5 U.S. Social Networking sites with regards to share of time spent according to comScore.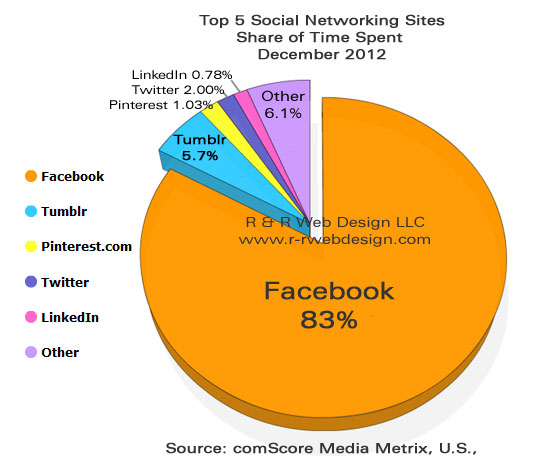 Question: is there a social networking site that you think should have made the top 5?
To read the entire comScore report:  U.S. Digital Future in Focus 2013
ABOUT COMSCORE, INC.
comScore, Inc. (NASDAQ: SCOR) is a global leader in digital measurement and analytics, delivering insights on web, mobile and TV consumer behavior that enable clients to maximize the value of their digital investments.
The comScore Census Network™ (CCN) captures trillions of digital interactions a month to power big data analytics on a global scale for its more than 2,000 clients, which include leading companies such as AOL, Baidu, BBC, Best Buy, Carat, Deutsche Bank, ESPN, France Telecom, Financial Times, Fox, LinkedIn, Microsoft, MediaCorp, Nestle, Starcom, Terra Networks, Universal McCann, Verizon, ViaMichelin and Yahoo!.